December 06, 2018, 01:06:00 PM by Daphne in General.
Check out OSU's online 6-week, self-paced course (Blueberry Physiology, Production Systems & Management) that will be offered starting on January 25, 2019.

Blueberry Physiology, Production Systems & Management
Online course for industry led by Dr. Bernadine Strik
Oregon State University

Online blueberry course offered through Professional and Continuing Education (PACE) at OSU.

The online blueberry course led by Bernadine Strik at OSU has been very popular with four offerings to date and full enrollment. As a reminder, "students" have access to 3 to 4 hours of narrated lectures per week over this 6-week-long course (January 25 - March 11, 2019). A new set of lectures are available each week. Students can interact with the instructor and each other through a discussion board. So far, students have included new and experienced growers of northern and southern highbush blueberries from small to large conventional or organic farms, farm or crop advisors, consultants, owners, nurseries, and extension and research faculty. Evaluations have been excellent from all of these types of students. You can see testimonials on the web site for the course.

We hope you will considering registering for the January 2019 offering as soon as possible. Since the Fall 2018 offering had to be canceled, registrations for the course are ahead of schedule.

See the link to register: https://pace.oregonstate.edu/catalog/online-blueberry-physiology-production-systems-management
---
October 12, 2018, 02:11:18 PM by Daphne in General.
Come see us at these upcoming Ag Shows for 2018-2019.
---
February 02, 2018, 03:24:24 PM by Daphne in General.
Here is a PDF flyer for our Cub Cadet Utility Vehicles (UVs) with 50% off accessories until 2/18/2018.
We'll have this flyer available at the upcoming Sportsman Show in Portland, Oregon February 7th-11th, 2018.
Sportsman Show Portland Cub Cadet Flyer 2018
---
October 31, 2017, 04:02:51 PM by Daphne in General.
---
January 06, 2017, 02:32:55 PM by Daphne in General.
---
December 19, 2016, 03:54:52 PM by Daphne in General.
Cub Cadet Utility Vehicles Are Now Available At Littau Harvester.
Ask about these models:
- 400LX $5,999.99 400LX PDF Brochure
- CX500 $8,499.99 CX500 PDF Brochure
- CX700 Camo $9,799.00 CX700 PDF Brochure
- CX750 Crew $11,999.99 CX750 Crew PDF Brochure
Cub Cadet.com Utility Vehicles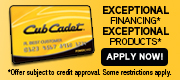 For more information please contact Frank at 503-932-6256 or at frank@littauharvester.com or kevin@littauharvester.com.
---
December 15, 2016, 11:40:48 AM by Daphne in General.
Attention College Students and Parents:
The Oregon Blueberry Commission is offering a 2017-18 Scholarship.
Applicants must already be enrolled in an Oregon College or University and must have at least one year remaining towards a degree at the time the scholarship is received. Selection preference will be given to applicants who are enrolled in a Crop Science, Horticulture or Food Science Program.

Applications are due no later than January 31, 2017.
Please see the link to the scholarship web page for more information and to apply.
Return applications to: Oregon Blueberry Commission, P.O. Box 3366, Salem, Oregon 97302

www.oregonblueberry.com/scholarship
Link to Scholarship Application
---
November 14, 2016, 04:51:35 PM by Daphne in General.
---
January 05, 2016, 11:08:20 AM by Daphne in General.
---
Next >>>