Products - ORXL Over-The-Row Harvester
Machine Name
Description
Details
Photo
Over-The-Row
The Over-The-Row XL Harvester is our newest design that has a large platform and storage area and improves on earlier designs for more fresh quality fruit.
Littau Harvester's ORXL harvesting system.
The largest working platform in the industry, 210SQ.FT.
The largest elevator has over 72 SQ.FT. of storage area.
Safely store & lower four pallets (6000 lbs) of fruit.
Only three conveyor drop points for fresh quality fruit.
New shaker system, more selective fresh quality fruit.
56" wide unobstructed tunnel width.
New conveyor transfer systems designed for quality.
An Over-The-Row Harvester is a diesel-powered machine that straddles a berry bush to harvest its fruit. This machine is called an Over-The-Row because, the driver and work crew are on the top of the machine. This machine shakes the bush so only the ripe fruit falls onto the catcher plates and into a series of belts that transport the fruit to berry crates after being cleaned by air fans that remove unwanted leaves and debris. This model has produced the best yield at the lowest cost for all types of crops.
Model: ORXL
Dry weight: 12,500lbs.
Dynamic Hydraulic Fail Safe Brakes.
Cummins B Series 3.3 Liter Turbo Diesel engine.
Traveling speed: 0-9 mph.
Automatic Leveling and Electronic Assisted Steering by Littau Harvester.
Crew: 1 to 6.
Tires: 35 x 19.5 x 16.1.
Deck Height: 97" Raised, 43" Lowered.
Horizontal or Vertical Freewheeling Rotary Shaking System.
Oil Cooler by AKG.
Overall Width: 130".
Overall Height: 167".
Overall Length: 226".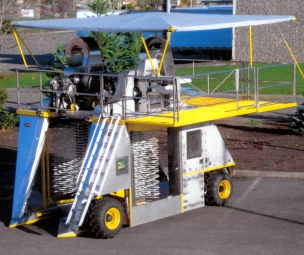 Specifications subject to change without notice.