Products - Over-The-Row Harvester
Machine Name
Description
Details
Photo
Over-The-Row
Cummins B Series 3.3 Liter Turbo Diesel Engine.
Dynamic hydraulic fail safe brakes.
Custom Automatic Leveling and Electronic Assisted Steering by Littau Harvester.
Patented High Density Dual Pattern Catcher Setup.
Horizontal or vertical freewheeling rotary shaker system.
Model: Over-the-Row
Dry weight: 10,650lbs.
Traveling speed: 0-9 MPH.
Automatic Leveling.
Electronic Assisted Steering.
Overall width: 119".
Overall height: 159".
Overall length: 206".
Catcher length: 162".
Tires:35 x 19.5 x 16.1.
Oil Cooler by AKG.
Number of crew: 1-6.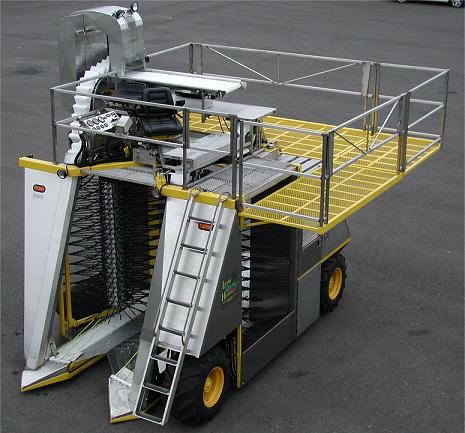 Specifications subject to change without notice.